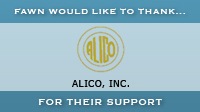 Alico, Inc., is an agribusiness company, primarily engaged in the production of citrus, sugarcane, cattle, sod and forest products.
The Company's operations are located in central and southwest Florida. The Company's primary asset is 136,081 acres of land located in Collier, Hendry, Lee and Polk Counties.
ALICO, Inc. (incorporated in 1960) is an acronym for The Atlantic Land and Improvement Company (incorporated in 1898) a subsidiary of The Atlantic Coastline Railroad. In 1948 the Company established its first office in LaBelle, Hendry County, Florida. At this time the Company's land holdings exceeded 250,000 acres.
By 1951, the Company had greatly expanded its farm leasing, created a forest management program and begun developing its cattle ranch and citrus groves.
In 1957, the Company's original President, Champion McDowell Davis, retired, and W. Thomas Rice was elected as his successor.
During the 1950s a number of experimental projects were dropped, the citrus and cattle operations were expanding while several thousand acres were sold to developers. Leases for oil, minerals and rock mining were inaugurated.
Our Chairman's philosophy encompasses a love of land and an understanding and commitment to Florida agriculture while managing operations and real estate to maximize their value for the long term. Through Mr. Alexander's leadership, Alico plans to continue its involvement in the Central and Southwest Florida regions and its close association with Florida Gulf Coast University.
With the enhanced effort of our associates, together with the support of our suppliers, customers and stockholders, we are confident that Alico will grow and produce even better results in the future.