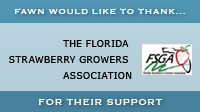 The Florida Strawberry Growers Association
In 1982, the Florida Strawberry Growers Association (FSGA) was officially formed, and became the voice for Florida strawberry growers. FSGA's mission for the handful of farmers is to be "partners in research, promotion and member/community service."
Plant City, Florida is now the Winter Strawberry Capital of the world because of Henry Plant's decision to build a railroad to Tampa; this gave the growers in the local area a unique way to market their strawberries. The Plant City/Dover area is a Mecca for the sweetest, most luscious strawberries around. The strawberry growers have met their mission and continue to do so. They are a voluntary organization that represents over 8,000 acres of berries.
Hillsborough County produces about 15 percent of the nation's strawberries and most all of the berries are grown during the winter, producing 18 million flats each year. Even more impressive than their stats is that this strawberry community has been growing strong for over a century and the value of their product has more than tripled in the last two decades, and looks prosperous for the next decade. If anything, the community's claim as the "Winter Strawberry Capital of the World" seems stronger.
FAWN thanks the FSGA for its ongoing support.