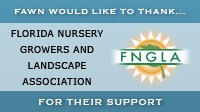 Florida Nursery, Growers and Landscape Association
The Florida Nurserymen & Growers Association (FNGA) is a vibrant network of professionals dealing in Florida's nursery and landscape industry who strive to maximize the industry's exposure and success. Providing the industry with marketing opportunities, tradeshow platforms, government representation, educational opportunities, research funding, certification programs and much more, FNGA works to protect our member's bottom-line business interests. FNGA is a member-driven organization with over 2,200 members.
For information on FNGA, logon to www.fnga.org or contact FNGA Member Services at 800.375.FNGA. The address is 1533 Park Center Drive, Orlando, FL 32835.
FNGA is one of the founding members of the Agricultural Weather Task Force and has been a driving force in the establishment of FAWN. Thanks to the hard work of Ben Bolusky and the entire staff, funding for the establishment of weather towers and maintenance equipment was obtained from the state legislature.