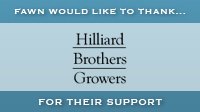 Hilliard Brothers of Florida
5500 Flaghole Road
Clewiston, Florida 33440983-5111
Joe A. Hilliard and his brother Marlin formed Hilliard Brothers of Florida in the 1930's in the Central and South Florida region for his cattle business. The business has since grown to over 60,000 acres in Hendry and Glades Counties and two other states have since branched out into the crops such as sugarcane, citrus, fruit, sod, vegetables and timber.
Joe Marlin Hilliard, the son of Joe A. Hilliard, joined the family operation in 1961 and worked to develop mechanical harvesting in sugar cane. His leadership led the way ushering in new sugarcane harvesting technology and led the way to keep the entire Florida sugarcane industry viable.
To this day, Hilliard Brothers of Florida continues as a family operation with Joe Marlin Hilliard's two sons' Joe Marlin II, Bryan, and daughter Mary Elizabeth, all involved in different aspects of the business.