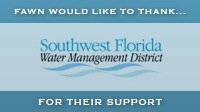 Southwest Florida Water Management District
http://www.swfwmd.state.fl.us/
The mission of the Southwest Florida Water Management District (The District) is to manage the water and water-related resources within its boundaries. Central to the mission is maintaining the balance between the water needs of current and future users while protecting and maintaining the natural systems that provide the District with its existing and future water supply.
The governing board of the Southwest Florida Water Management District assumes its responsibilities as authorized in Chapter 373 and other chapters of the Florida Statutes by directing a wide-range of programs, initiatives, and actions. These programs include, but are not limited to, flood control, regulatory programs, water conservation, education, and supportive data collection and analysis efforts.
FAWN is especially grateful to all Southwest Florida Basin Boards for their financial support (see list below). Southwest Florida Water Management District (SWFWMD) is committed to preserving our greatest natural resource, water. They are a solid partner with FAWN and will be closely involved with the development of management tools to help manage this resource.
Visit the SWFWMD web site to learn more about the many activities of this organization.
Southwest Florida Water Management Basin Boards
View a map of the Southwest Florida Water Management Basin Boards