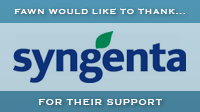 Syngenta
Syngenta is one of the world's leading agribusiness companies, offering a broad portfolio of seeds, seed treatments, fungicides, herbicides, insecticides, and postharvest products to protect crops from seed to store. Through expertise and commitment, Syngenta is also a leader in the citrus industry.
Pooling global and local resources and personnel, Syngenta focuses on the key issues in citrus, including citrus greening, resistance management, and postharvest protection. Syngenta is dedicated to becoming a long-term value partner to citrus growers by offering value-added services and bringing breakthrough technologies to enhance our portfolio.
Syngenta supports Florida agriculture in many ways. Scientists at the Vero Beach Research Center and the Syngenta research station in Naples study and develop innovative products and technologies, providing growers with useful and effective crop solutions. Additionally, Syngenta stands behind the future leaders of the citrus industry with the summer internship program for college sophomores and juniors interested in pursuing a career in agriculture.
For more information, please visit www.syngenta-us.com or www.citrus.farmassist.com
©2013 Syngenta. Important: Always read and follow label instructions. Some crop protection products may not be registered for sale or use in all states or counties. Please check with your local extension service to ensure registration status. The Syngenta logo is a registered trademark of a Syngenta Group Company.