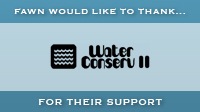 Water Conserv II
Water Conserv II is a water reuse project involving the City of Orlando and Orange County, who generate reclaimed water; Woodard and Curran the contract operator that manages the distribution of the reclaimed water; and citrus producers that utilize a large portion of the reclaimed water for irrigation and cold protection. To learn more about this award winning project visit their web site.
FAWN is fortunate to have the support of all those involved with Water Conserv II. Orange County and the City of Orlando have provided funding for the Avalon site and are committed to our effort to provide timely and accurate weather data to all residents of Florida and especially to those participants in Water Conserv II that rely on it daily.
Water Conserv II feels FAWN provides a vital data base for agriculture and is pleased to participate in the sponsor program.
FAWN encourages you to learn more about Orange County and the City of Orlando by visiting their web sites: